As an Amazon Associate, I earn from qualifying purchases at no extra cost to you. Thank You for your support.
Best Ethereum Wallets – Ethereum! What an insane growth the coin has been. If you ask me if I prefer bitcoin or ethereum, I would choose ethereum all day. Ethereum is currently in 2nd place, actually, Ripple was ahead of ethereum but not for long, Ethereum is back in the 2nd place according to their respective market cap in CoinMarketCap. A lot of people kept asking us for the Best Ethereum Wallets after our article on the ripple wallet went pretty viral on Twitter. So here we have compiled a list of Top 5 Best Ethereum Wallet which is super safe and very easy to hold the coins.

5 Best Ethereum Wallets – Best Eth or Ether Wallets?
What is Ethereum?
Ethereum is an open-source, public, blockchain-based distributed computing platform and operating system featuring smart contract (scripting) functionality. It supports a modified version of Nakamoto consensus via transaction based state transitions. Along with Bitcoin, Ethereum is considered to be one of the pioneer platforms in distributed ledger and blockchain technology. In popular discourse, the term Ethereum is often used interchangeably with Ether to refer to the cryptocurrency that is generated on the Ethereum platform.
Ether is a cryptocurrency whose blockchain is generated by the Ethereum platform. Ether can be transferred between accounts and used to compensate participant mining nodes for computations performed. Ethereum provides a decentralized Turing-complete virtual machine, the Ethereum Virtual Machine (EVM), which can execute scripts using an international network of public nodes. "Gas", an internal transaction pricing mechanism, is used to mitigate spam and allocate resources on the network.
Best Ethereum Wallets – Best Eth or Ether Wallets?
Guarda Wallet
Guarda Wallet is cryptocurrency wallet and its available in Desktop, Web, Mobile, and Chrome Extension versions. You can use it on Windows, Mac, Ubuntu, Linux, iOS, and Android. Guarda Wallet accepts around 40+  coins and 10000 tokens. The popular coins that are accepted in Guarda Wallet are Bitcoin, Ethereum, Ripple, Bitcoin Cash, Litecoin, EOS, Binance coin and more.
Guarda is a company based in Estonia. They are one of those rare wallets that support BEP2 Token (Binance Chain). My favorite feature with Guarda is that you can buy and also exchange cryptocurrency on the wallet itself.
S

ome of the Unique Features of Guarda Wallet are
Guarda Wallet is available in iOS, Android, macOS, and Chrome Extension, as its a multicurrency wallet you can use this on any device that you own. Every few wallets support so many platforms at the same time.
User-Friendly and Lightweight
Guarda Wallet is very much user-friendly and lightweight. I run this wallet on my macOS and it runs really smoothly without loading up my memory. Even a beginner can use this wallet easily as its user interface is really minimal and easy to use. 
Buy and Exchange Currency
Guarda Wallet has a builtin Currency Exchange which is powered by ChangeNow and CoinSwitch. You just Buy and Exchange currencies on the wallet itself which is super handy.
Guarda Wallet supports more than 40+ coins and 10000 tokens such as Bitcoin, Ethereum, Ripple, Litecoin, Binance Coin and more. 
Atomic Wallet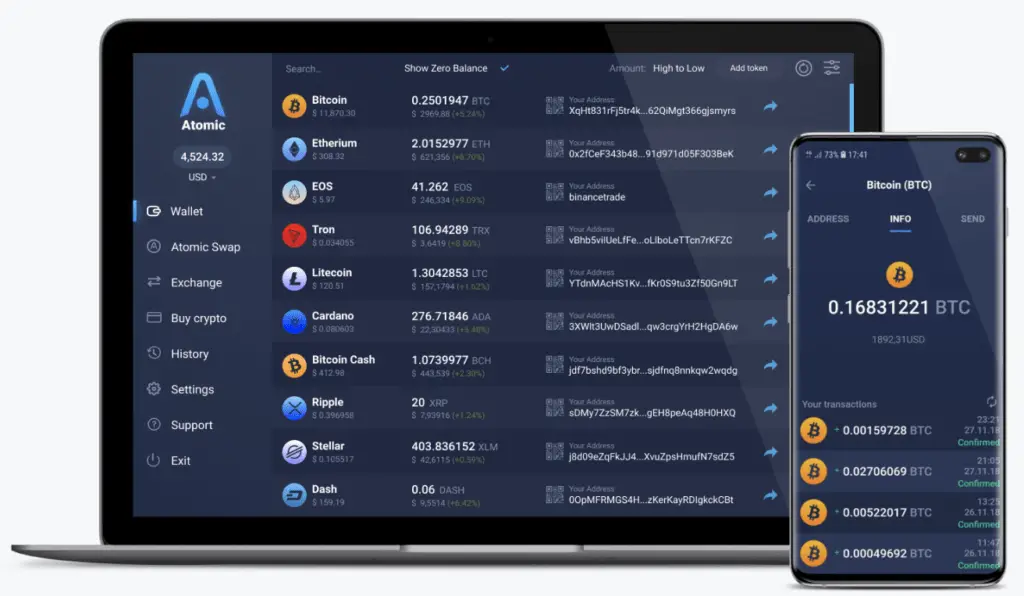 Atomic Wallet is really a very unique and powerful cryptocurrency wallet. They have some really good and powerful features. One of my favorite reason for the atomic wallet is how transparent they are and also the reliability. 
Some of the features of Atomic Wallet are 
Atomic Swap Exchange is where you use decentralized Atomic Swap to proceed with cross-chain exchange avoiding third party risks. 
You can buy cryptocurrency on the wallet itself. You can crypto such as Bitcoin, Litecoin, Etherum, Ripple and Bitcoin Cash with your bank card. They accept many currencies such as USD, EUR, and many others. 
Atomic Wallet is very secure. They have really strong encryption built so you don't have to worry about the safety of your currencies in the wallet. 
Atomic Wallet supports more than 500+ coins and tokens. They support popular coins such as Bitcoin, Etherum, Litecoin, XRP, Binance Coin and more. 
Ledger Nano S (Editor's Choice)
Ledger Nano S is a hardware wallet and it's really popular with the cryptocurrency users. It's relatively cheaper hardware wallet available in the market but the quality is definitely not compromised for the price. We totally recommend this wallet for your ethereum or let's say any cryptocurrency that ledger nano s supports. 
Ledger Nano S has a LED Screen in the device, which will let you know about the new transaction it has sent or received and all you can check the balance using it. Ledger Nano S is also known for supporting upcoming forks of all the respective coin. They provided Bitcoin Cash when it was forked from Bitcoin in the ratio 1:1.
It supports all the top cryptocurrencies like Bitcoin, Bitcoin Cash, Etherium, Litecoin, Ripple, Dash, Bitcoin Gold and many other altcoins, and they keep adding new coins every day.
Unique Features of Ledger Nano S
Ledger Nano S supports Bitcoin, Bitcoin Cash, Litecoin, Ethereum, Ripple, and altcoins.

Check and confirm transactions on the display and confirm with using the physical buttons (anti-malware second factor).

Your confidential data is never exposed: it is secured inside a strongly isolated environment locked by a PIN code.

Your accounts are backed up on a recovery sheet. Easy restoration of any Ledger device or compatible wallets (BIP39/BIP44).

Ledger Nano S supports the FIDO® Universal Second Factor authentication standard on Google, Dropbox, GitHub or Dashlane.

Use companion apps such as cryptocurrencies wallets, and also FIDO® U2F, GPG, SSH or build your own applications.

Compatible with Windows, Linux, and Mac.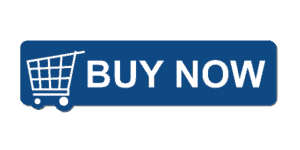 Trezor
Trezor is another hardware wallet for storing your cryptocurrency. But it was the first invented hardware wallet. The reason it is placed in the 2nd place is for its price. It is pretty expensive compared to Ledger Nano S. It is priced at $99. Trezor has similar features and functionality as to ledger nano s, as they both have LED Screen and controls. They both support major cryptocurrencies and many other similar features and functionality. 
It supports major cryptocurrencies such as Bitcoin, Bitcoin Cash, Litecoin, Ethereum, Ethereum Classic, ZCash, Dash Coin, Dogecoin and many other coins. It has the possibility to support all the ERC-20 Token too.
Unique Features of Trezor Wallet
Password Manager to generate and store powerful and untraceable passwords.
Protect access to your servers, data or websites administration. SSH login with single or multiple sessions.

Safeguard your online accounts and identities. Enable the industry standard FIDO/U2F and use TREZOR as your security token.

Use the LED Screen to check important transactions.

Minimalistic Design
MyEtherWallet
MyEtherWallet is a web wallet, exclusively built to support ethereum and other cryptocurrencies based on Ethereum. It is nowhere like the other traditional wallets. In MyEtherWallet you get to control your  Ethereum's private key on your system.
My EtherWallet is an Open Source Web-based Wallet, only to support ERC-20 Tokens. It has an inbuilt BTC to ETH (and vice-versa) swap facility. You can also connect your Trezor or Ledger Nano S to access your funds in MyEtherWallet's Environment. This is one of the best ethereum wallets that we recommended to our readers.
Unique Features of MyEtherWallet
MyEtherWallet is an Open Source Wallet

It gives you full control of your security using your unique private key.

MyEtherWallet is a Web-based wallet.

MyEtherWallet lets you swap Bitcoin to Ethereum or Ethereum to Bitcoin inside the wallet.

MyEtherWallet can be connected with Hardware wallets like Ledger Nano S and Trezor.
Exodus Wallet
Exodus Wallet is one of those firstly invented multi-currency wallet for the cryptocurrency users to store and manage their multiple currencies or tokens from a single wallet.
Exodus is a free software based wallet, with a great and user-friendly interface to manage the cryptocurrencies. You get a pie chart representation of your multiple currencies with the total portfolio wallet. You can exchange your currencies into others without sending your currencies to other exchanges because Exodus uses ShapeShift API which will let you exchange the currencies without transferring it. Exodus Works in Windows, Mac and Linux Operating Systems.
Exodus supports Bitcoin, Dash, Ethereum, Litecoin, Dogecoin, Golem and other currencies. 
Unique Features of Exodus Wallet
Exodus is a Multi-Currency Wallet

Exodus Supports Windows, Linus and Mac.

Exodus let you exchange the currencies in the wallet by using

Shapeshift

.

User-Friendly interface with Pie Chart Representation.
Jaxx
Jaxx is a multi cryptocurrency supporting mobile and desktop based wallet. Jaxx was developed by a Canada Based Company for the cryptomaniacs. Jaxx Supports Windows, Linux and Mac Operating System in desktop and iOS and Android in Mobile Operating System. They ask support browsers such as Chrome and Firefox in terms of Addon or Extension. Jaxx is almost similar to Exodus with supporting more cryptocurrencies. Jaxx provides you with a private key by which you can secure your wallet. Jaxx supports 20+ cryptocurrencies such as Bitcoin, Ethereum, Litecoin, Ripple and many more.
Unique Features of Jaxx Wallet
Jaxx is a

Multi-Currency

Wallet which supports in Desktop (Windows, Mac and Linux

),

Mobile (iOS and Android

),

Web Browser (Chrome and Firefox)

It is an open source and free to download wallet.

It supports more than 20+ currencies and tokens.
That's it, we conclude this article here and we promise that we will keep it article updated more often by changes that take place in the crypto world. If you like this article please do share it with your friends via Social Networking sites. If you own a blog or a website please do embed our infographics on your blog or website.