As an Amazon Associate, I earn from qualifying purchases at no extra cost to you. Thank You for your support.
Shroud PUBG Settings – Shroud is the best player currently in PlayerUnknown's Battlegrounds or also called as PUBG. Just like how Ninja is to Fortnite. Shroud aka Michael Grzesiek is currently 24 years old born on June 2, 1994, in Canada. He is known for his amazing gameplay and winning streaks in PUBG or PlayerUnknown's Battlegrounds. Shroud is a very popular Twitch streamer and also has a good amount of audience on Youtube too. He uploads his twitch clips on Youtube. He is part of Cloud9 Clan for PUBG. He is currently a full-time streamer who streams PUBG and also Fortnite. A lot of people started messaging asking to post PUBG settings too because we were mostly concentrating on fortnite. So we thought we would start the best pubg player on earth that is Shroud and do a comprehensive article on Shroud PUBG Settings such as keybinds, Mouse Sensitivity, Gaming, and Streaming Gears and system configurations. 
Shroud Personal Information
Gamer Name: Shroud
Real Name: Michael Grzesiek
Birthday: June 2, 1994
Age: 24
Country: Canada
Team: Cloud9
Alternate ID's: Shroud, C9Shroud
Read This: Shroud Apex Legends Settings, Keybinds, and Mouse Sensitivity
Shroud PUBG Gaming Gears
| | | |
| --- | --- | --- |
| Monitor | BenQ XL2540 | |
| Mouse | Logitech G303 | |
| Keyboard | HyperX Alloy FPS | |
| Headphones | HyperX Cloud Flight | |
| Chair | MAXNOMI Cloud9 Pro | |
| Mousepad | HyperX FURY S Pro | |
Shroud PUBG Settings, Keybinds and Mouse Sensitivity
BenQ XL2540 is the monitor that Shroud uses to play PUBG. BenQ is a pretty standard monitor company and has a really good series of Gaming Monitors. BenQ XL2540 is a 24.5-inch monitor with an impressive 240Hz refresh rate. That is the highest refresh rate on the gaming monitor that means you won't find any drop in the frame rates. This is a 1080p with EQualizer and color vibrancy. As the tagline of this monitor suggests "The Ultimate ESports Experience" this is definitely a really good monitor with a complete package. This monitor uses a technology called Optimize Gaming Precision which is the game-changer for games like PUBG. It automatically optimizes as the game condition and it's pretty great. This monitor has an external remove that you use to change the settings of the monitor, which is pretty unique. One of my favorite features of this monitor is the Personalized Viewing Angles. You can legit change to whatever angle you want which awesome. 

Logitech G303 is the mouse that Shroud uses to play PUBG. This Logitech G303 is specifically designed for FPS (First Person Shooter) Gaming. Which is really good because PUBG is also a First Person Shooter gamer. This mouse was designed for eSports or Competitive gaming still you can use it to play with your friends too. Most of the top-level gaming players in eSports use this mouse. This is a really lightweight with the optic sensor which makes accuracy really easy. This mouse uses the latest technology which is LightSync, which helps you synchronize lights based on the situation. It is RGB Mouse if you look at the colors on the mouse. 

Kingston HyperX Alloy FPS Pro Keyboard is which Shroud uses to play PUBG. This keyboard comes with multiple color variants such as Cherry MX Red, Cherry MX Brown and Cherry MX Red. This is a great keyboard as this was exclusively designed for First Person Shooter Gaming such as PUBG which is pretty cool. This a backlit gaming keyboard with RGB included in it. It is made with Steel frame durability which makes it really compact and customizable. This keyboard is completely customizable as per your needs.

Kingston HyperX Cloud Flight is the headphone or the headset that Shroud Uses to play PUBG. I am so tired of telling how important a Headphone is for games such as PUBG because you need to listen to the footsteps sounds in the game which is really crucial for winning the game. This is a wireless gaming headset with 30 hours of battery power backup which is crazy. This headset is compatible with PC, PS4, Xbox, and Mac. The ear paddings in this headset are super comfortable and really can be played for a long time in a single sitting. HyperX Cloud Flight is arguably the best headset for gaming in the market right now, so grab yours.

Shroud PUBG PC Configuration/Setup
| | | |
| --- | --- | --- |
| CPU | Intel Core i7 8700K | |
| GRAPHICS CARD | ASUS ROG Strix Geforce GTX 1080 Ti | |
| MOTHERBOARD | ASUS ROG Maximus X Formula | |
| STORAGE | HyperX Predator M.2 PCIe SSD | |
| MEMORY | HyperX Predator 32GB | |
Shroud PUBG Settings, Keybinds, Mouse Sensitivity, Config and Gears
| | |
| --- | --- |
| Resolution | 1920×1080 |
| Quality | Custom |
| Anti-Aliasing | Low |
| Post-Processing | Low |
| Shadows | Low |
| Texture | Ultra |
| Effects | Very Low |
| Foliage | Very Low |
Read This: Myth Fortnite Mouse Sensitivity
Shroud Mouse Sensitivity and Settings
| | |
| --- | --- |
| DPI | 400 |
| Polling Rate | 1000 |
| Invert Mouse | No |
| General Sensitivity | 55 |
| VehicleDriver Sensitivity | 55 |
| Targeting Sensitivity | 55 |
| Scoping Sensitivity | 50 |
| Scope2X Sensitivity | 50 |
| Scope4X Sensitivity | 50 |
| Scope8X Sensitivity | 47 |
| Scope15X Sensitivity | 42 |
Read This: All Fortnite Skins List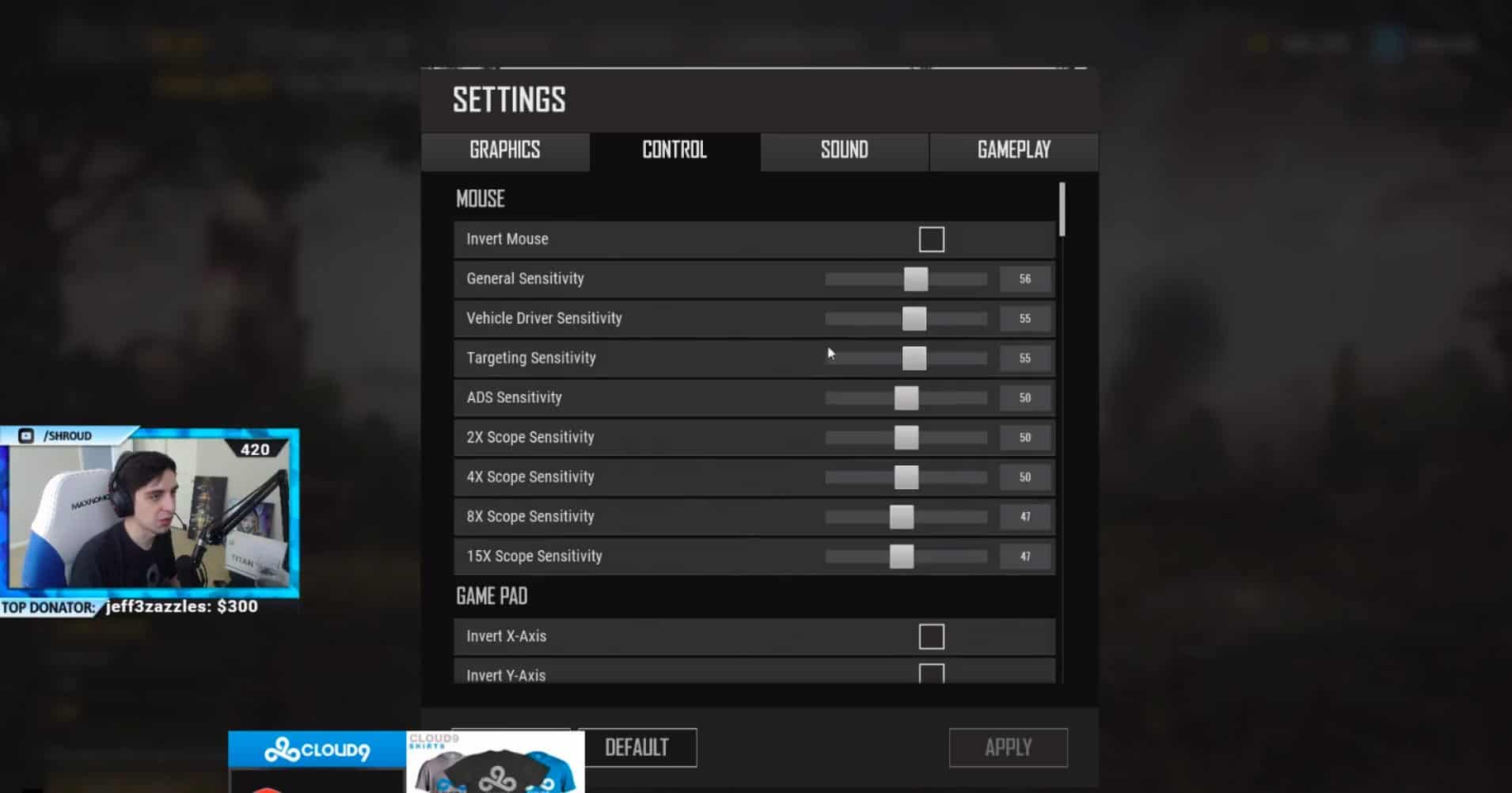 Shroud PUBG Keybinds
Walk – Left Alt (replacing prone so I don't lay down when alt-tabbing)
Prone – B
Toggle Camera – M (i play fpp so I don't use this. If u play tpp I suggest swapping this and have it on Q for indoor fighting)
AutoRun – Middle Mouse Button
Freelook – Thumb Mouse Button 2
Toggle Firing Mode – Q (this is very useful to swap between sniping and spraying on AR)
Peek Left – C
Peek Right – V
Unarm – X (this might be a default)
Use Bandage – Shift + 1
Use Heal Item – Shift + 2
Use Boost Item – Shift + 3
Use Energy Drink – Shift + 4
Motorcycle Air Control Roll Right – V
Motorcycle Air Control Roll Left – C
Map – E
Push to Talk (in teamspeak/mumble/discord) – Thumb Mouse Button 1
Read This: Warframe Octavia Abilities
Wrapping Up Now on Shroud PUBG Settings
This is the conclusion of this article. If you like it then please do share it with your friends. If you need any help then please comment below we will get back to you in 24 Hours. Thank You.