As an Amazon Associate, I earn from qualifying purchases at no extra cost to you. Thank You for your support.
FaZe Tfue Fortnite Settings – Faze Tfue is one of my favorite Fortnite players even though not a lot of people like him that much Because he utilizes the glitches in fortnite properly so professional players don't really like him. Recently two of these Fortnite accounts were terminated for some reasons and now he is using an account called "Not Tfue". Tfue is really my favorite fortnite player for a lot of reasons. He is one such player who is quite natural to the first-person shooter. After the huge success of Ninja Fortnite Settings and Myth Fortnite Settings, everybody started to mail or contact us using the contact form and started requesting for FaZe Tfue Fortnite Settings. So we did our research and came up with the best and accurate FaZe Tfue Fortnite Settings. In this article, we have written an article on Tfue Fortnite Settings, Configuration, and Gears. We have also given his keybinds and mouse sensitivity as a piece of bonus information for the readers. 
FaZe Tfue Personal Information
Gamer Name: Tfue
Real Name: Turner Tenney
Birthday: December 25, 1997
Age: 20
Country: United States of America
Team: FaZe Clan
Alternate ID's: FaZe Tfue, Not Tfue
FaZe Tfue Fortnite Gears
| | | |
| --- | --- | --- |
| Monitor | ASUS PG258Q | |
| Mouse | SteelSeries Sensei 310 | |
| Headphones | SteelSeries Arctis Pro | |
| Keyboard | SteelSeries Apex M750 | |
| Chair | DXRacer | |
FaZe Tfue Fortnite Settings, Config, and Gear
This is the monitor that FaZe Tfue uses to play to play Fortnite. This is from the Asus's need range of gaming peripherals called "Republic of Gamers" or "ROG". This gaming monitor is quite unique because of the Incredibly Fast 240Hz Refresh Rate. What I love above this monitor is the Aesthetic and futuristic design. I mean it is perfect for a gamer who looks aesthetic. This monitor comes with crazy modern feel design which will definitely empower your gaming securities. We really love and appreciate Asus for the built-in lighting effects on its stand to add ambiance to your gaming set up. This Asus monitor is perfect for long duration gamers such as who play gaming marathon on weekends or even weekdays. Why I mention this is because of the adjustable stand so you can adjust to your own requirements. It has a really cool smart air vent system behind the monitor which helps in proper heat air release due to long duration gaming. 

This is the mouse that tfue uses to play fortnite. We all know how important a mouse is for a gamer, especially for these FPS (First Person Shooter) Games. This SteelSeries Sensei 310 is the most affordable and the best mouse for any FPS Gamers. All other fortnite gamers such as ninja's mouse are quite expensive so if you can't afford that you can get this one. This mouse has TrueMove3 sensors which have the ultra-low-latency, rapid-response tracking delivers the most natural and accurate mouse movement. It has unique spilled trigger system which will help you increase your gaming accuracy and fast triggering such as building can be done easily in fortnite. This is a super lightweight gaming mouse on the market currently so it is really smooth, awesome and feel good to use. 

This is the keyboard that Tfue uses to play Fortnite. This SteelSeries Apex M750 is one of the best and my personal favorite gaming keyboard. I mean just look at that keyboard. It looks sick. This keyboard uses QX2 Mechanical Switches which helps in the fast controlling and fast typing. It's crazy how easy and comfortable it is to type in this keyboard. I love how customizable is this keyboard is and love the customizable functionality. This keyboard is fully aluminum design and super sleek design make it really awesome to use. You must be wondering why Tfue uses only SteelSeries gaming gears to play maybe he is sponsored by them. Maybe. But the company is really good and very legit. It is one of the up and coming companies in the market right now.

This is the Gaming Headphones that Tfue uses to play fortnite. Most of them think that proper gaming headphones are not required to excel in the game then you are wrong. Because games such as Fortnite requires proper listening skill so that you can tap your enemies before they tap you. So I strongly recommend a proper gaming headphone to take your gaming to the next level and get Victory Royale all the time. This SteelSeries is super sleek with the modern look.

Tfue's Fortnite PC Configuration/Setup
| | | |
| --- | --- | --- |
| CPU | Intel Core i7-7700K | |
| GRAPHICS CARD | ASUS ROG Strix Geforce GTX 1080 Ti | |
| MOTHERBOARD | ASUS ROG Maximus X Formula | |
| MEMORY | Corsair Dominator DDR4 3200MHz | |
| STORAGE | 1TB Samsung 850 EVO | |
FaZe Tfue Fortnite Settings, Config, and Gear (Tfue Mouse Sensitivity, Keybinds)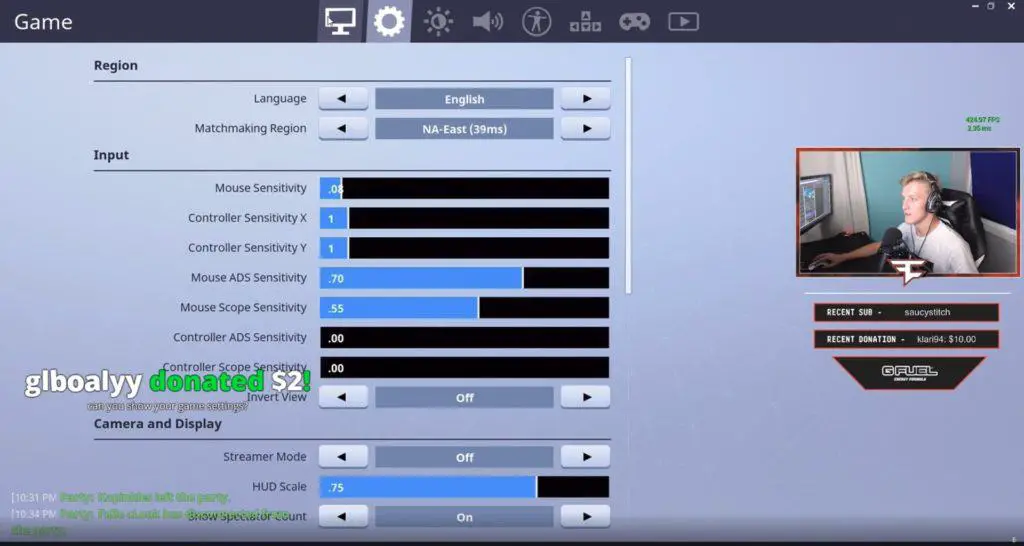 | | |
| --- | --- |
| Window Mode | Fullscreen |
| Resolution | 1920×1080 |
| Aspect Ratio | 16:9 |
| Frame Rate Limit | Unlimited |
| 3D Resolution | 1920×1080 |
| View Distance | EPIC |
| Shadows | OFF |
| Anti-aliasing | OFF |
| Textures | EPIC |
| Effects | LOW |
| Post Processing | LOW |
| Motion Blur | OFF |
| Vsync | OFF |
| Monitor Refresh Rate | 240 Hz |

FaZe Tfue Fortnite Sensitivity
| | |
| --- | --- |
| Mouse Sensitivity | 0.07 |
| Mouse ADS Sensitivity | 0.70 |
| Mouse Scope Sensitivity | 0.50 |
TFUE FORTNITE KEYBINDS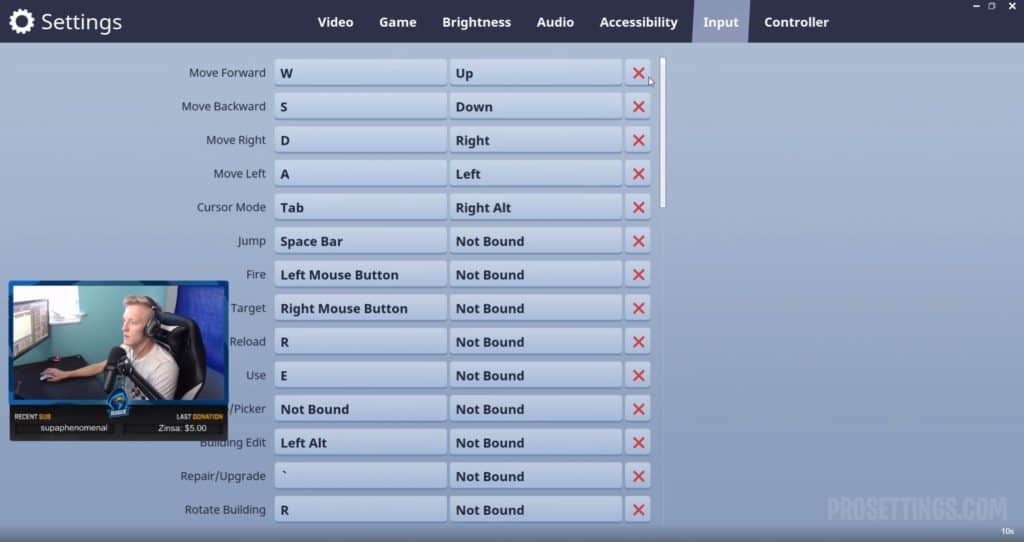 | Action | Input |
| --- | --- |
| Use | E |
| Jump | Spacebar |
| Crouch | Q |
| Weapon Slot 1 | 1 |
| Weapon Slot 2 | 2 |
| Weapon Slot 3 | 3 |
| Weapon Slot 4 | 4 |
| Ability Slot 1 | 5 |
| Ability Slot 2 | 6 |
| Switch Quickbar | P |
| Wall | C |
| Floor | F |
| Stars | V |
| Roof | Mouse 5 |
| Trap Slot | Mouse 4 |
| Building Edit | Left Alt |
Conclusion on Tfue Fortnite Settings
This is the conclusion of this legendary article on Tfue Fortnite Settings, Configuration, and Gears. Using this information you can reach the same potential as these players and get a ton of Victory Royale. If you like this article please share it with your friends and if you have any doubts or problem then please comment below. If you need any professional fortnite player's game settings then please mention them below in the comment box or mail us and we will cover then As Soon As Possible. Thank You and I wish you for more Victory Royale.