As an Amazon Associate, I earn from qualifying purchases at no extra cost to you. Thank You for your support.
If you are a newbie camper or an intermediate camper or someone who wanted to start camping and wondering what are the best small camping RV trailers with Bathrooms and bathrooms consisting of Shower and Toilet then you are in the right place. We asked some of the most experienced campers and came up with a report on the 10 best small camping trailer with Bathrooms.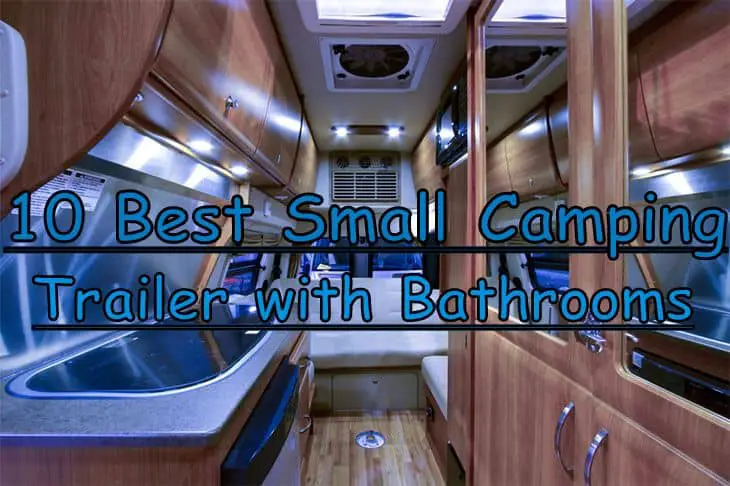 Top 10 Small Camping Trailers with Bathrooms
| Image | Name | |
| --- | --- | --- |
| | 2017 JAY SPORT Pure Escape | |
| | THE CASITA SPIRIT | |
| | Lance 1575 | |
| | Barefoot Caravans | |
| | iCamp Elite | |
| | Scamp | |
| | Airstream Sport | |
| | Escape Mini | |
| | Happier Camper | |
| | Cricket Camper | |
Best Small Camping Trailers with Bathrooms
1. 2017 JAY SPORT Pure Escape
The first one in the list is the RV from the Industry Jay Sport 2017 Pure Escape. Jay Sport 2017 Pure Escape is really good looking with amazing interior RV. The interior in this RV is luxuries as a beautiful villa. The interior consists of a dinette with reversible cushions, tinted vinyl windows, 4 inch heated bed mats, fresh mesh screening with a 14inch x 14inch powered rooftop.
Also Check: Best Volt TV for RVs
Jay Sport Pure Escape has amenities such as a curtained interior bathroom with a shower also outside/outdoor shower with a powered 6-gallon water heater. All the bathroom appliances are pre-plumbed, so all you need to do is just buy and start using it. It also has stereo and TV connection capabilities. 
2. The Casita Spirit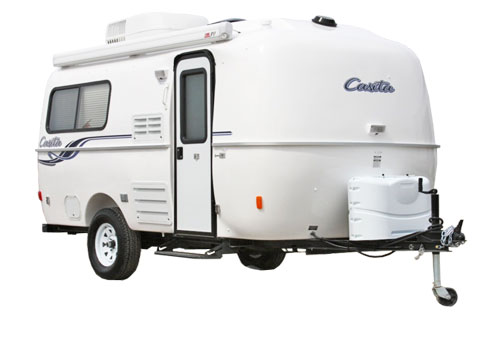 The Casita Spirit is more of a diner-style RV Pop Up Trailer. Casita Spirit comes in two variants, Deluxe and Standard. Standard is the 16′ trailer and Deluxe is 17′ trailer. It provides comfortable seating for 6 people but it can accommodate 8 people easily. The casita spirit is very lightweight and the interior is made to perfection for the comfort of the people. 
The interior is really good. The cushions are made up of two different fabrics, you can choose from one is Slate and Tan/Earth. This trailer has 15′ Tires with C-Range Wheels. It has Torsion Rubber Ride Suspension which makes the ride comfortable in bumpy roads. This trailer has got electric brakes so you need not worry more about the brakes. You also get spare tires, trailer covers and safety chains with this trailer. About the bathroom in this trailer, that is what is article is about. The bathroom is equipped with shower which has 16 Gallon Fresh Water Tank and 12 Volt Demand Water System. The furniture in the interior is Custom Marine Grade Fiberglass which is really strong. It has two types of storage compartment which is in Plush Carpet Line and another one is Side overhead. 
Read This: Best Dirt Bike Trailer
The Casita Spirit trailer has 110 Volt Interior Outlets, 12 Volt Outlet and 12 Volt Lighting. The exterior of this trailer is made up of two Piece Custom Marine Grade Fiberglass Body. It has exterior door light. The other exterior features are the same as the other trailers. This trailer has City water connection which is really good and essential for the trailer with bathrooms and showers. The trailer also has a separate tank where you can fill it up with fresh water for drinking and other purposes. The trailer also has a battery pack which is 12V. The kitchen appliance in this trailers is Power Range Hood with Light, Two-Burner Cook Top, Microwave Ready Package, Water Pressure Regulator, Two or Three Burner Cook Top, Water Hose and Blow Out Plug. In terms of the safety facilities in this trailers are Safety Egress Window, Smoke Detector, LP Gas Detector, Safety Fire Extinguisher, Safety Chains, Safety Breakaway Switch, and GFI Electrical Circuit.
3. Lance 1575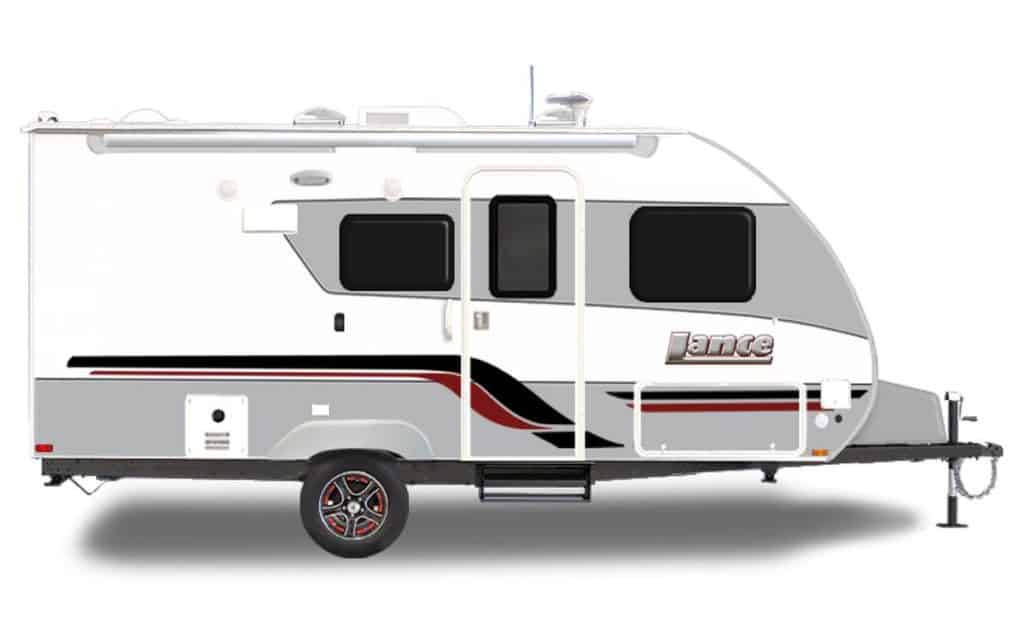 Lance 1575 is a supermodular and minimalistic small camper with bathrooms. Lance 1575  is an engineered RV trailer with lightweight technology. This is a dinette model camper trailer with a dry bathroom and shower. It can easily accompany four people at the same time. The living area in this RV Camper trailer is amazingly built with skylights and windows that make you feel like a home. This camper trailer is built with solid Lance engineering called Azdel, which replaces wood from walls with Lite-Ply which makes it light and strong at the same time. 
The bathroom has standard equipment such as Bath Tub, Black Tank Flush, Marine Toilet – Foot Pedal – Plastic, Medicine Cabinet with Mirror Door and Skylight – Dual Pane. The bedroom has equipment such as Deluxe Queen Innerspring Mattress with Pillow Top and Bedspread and LED Reading Lights which is really handy. The interior is built with Aluminum Framed Sidewalls, floors and ceilings. The Interior plane walls are built with the engineered Azdel with Block Foam Insulation. The dinette has a U Shaped Dinette to have food and have fun. 
If you speak about the electricals in the camper trailer then this is perfect. This camper has everything one needs such as 12V USB Charging Port, AM/FM/DVD Stereo with Internal and External Speakers with Bluetooth, Exterior 12V/120V Patio Outlet, and Entertainment TV Cable, LED Interior Lighting, LED Patio and Hitch Lights, Wall Switched Lighting and AC Thermostat, TV Antenna HD, Power Roof Vent in Bath, Pre-Wired for Roof AC/Fantastic Vent/Park and Sat Cable, Single Battery Compartment (Enclosed) with Disconnect, Solar on the Side Pre-Wire (Receptacle) and Systems Monitor Panel with LED Battery Indicator. 
The exterior in this RV Camper trailer is perfect, to be honest. The exterior has Aerodynamic Front Section Profile with Curved Window, Aluminum Wheels with USA Goodyear Radial Tires, Single Aluminum with Courtesy Entry Step LED, Exterior LCD Mounting Puck with Removable LCD Bracket, Exterior Propane Connection, Exterior Wash Station, Formed Jewel LED Docking Lights, Keyed Alike System, Laminated Fiberglass Bonded with Azdel Substrate, LED Tail Lights and License Plate Light with Holder, Manual Tongue and Stabilizer Jacks, Radius Acrylic Tinted Thermopane Euro Windows and Roof Vent in Bed/Living Area-Skylight In Galley/Dinette.
4. Barefoot Caravans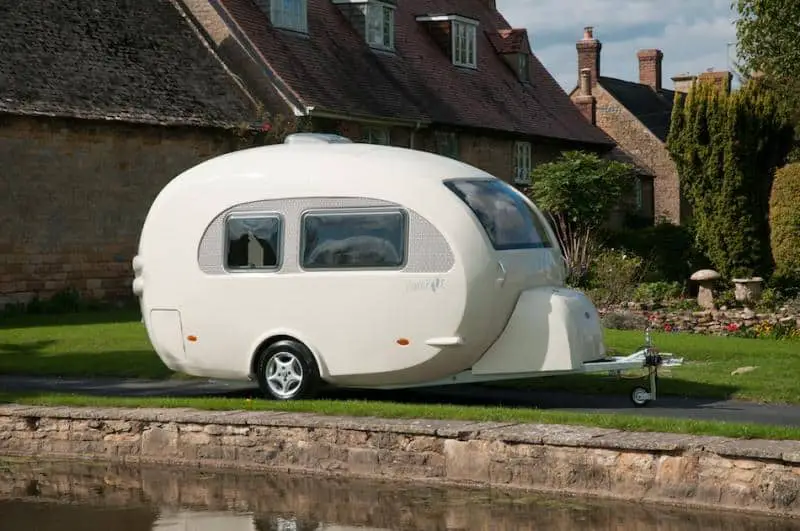 Barefoot Caravans is a unique camper, because of it built and customization. Barefoot Caravans is from the United Kingdom, so if you wanted to get it from the United Kingdom, then you need to order and pay extra fees for transportation. You really need to read their story on how they got started and established, it's pretty good. Barefoot Caravans is a modern British classic with the latest features built into it. Barefoot Caravan is a really good project, currently, it has stopped orders. Check their website out for more information.
Coming about the Features and Specifications of Barefoot Caravans are Polycarbonate front window (Very Strong Material), Onboard water tank 30L and offboard fittings, Polyvision Eco windows with fly screens and blinds, Roberts Revival Mini DAB Radio, Stylish kitchen and wall units with solid oak tops, MPK ventilated roof light 400 x 400, 65L Isotherm marine style compressor fridge with small freezer, Beautiful curved bathroom with Dometic cassette toilet, basin, shower, cupboard, and mirror, Comprehensive electrics system including 2x 230 v sockets, 1x 12v socket, 1 USB port, LED lighting, ceiling lights, reading lights and floor lightings, Luxurious L shaped seating (choice of vinyl fabrics) which also converts from big 6ft w x 6ft bed which is pretty cool, Wardrobe, cupboards and lots of cube holes, Roberts Revival Mini DAB Radio and 13-inch steel wheels with gorgeous retro hubcaps, plus spare wheel. 
One thing to be noted is that Barefoot Caravans are featured in many media and blogs such as BBC and also there are also Recognized by Bugatti. 
5. iCamp Elite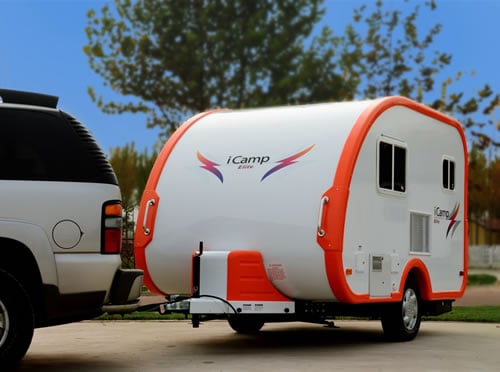 iCamp Elite is a futuristic and modular looking RV trailer with Bathroom and Shower. It is more of a contemporary and minimalistic design for an RV. iCamp Elite is a fully laminated travel trailer with high fiberglass skin with reinforced aluminum tubing frame. The interior in this RV trailer is very luxuries more like a portable mansion or villa. The furniture is made up of solid wood and high-grade plywood with an amazing finish. iCamp Elite has more unique amenities such as a decent sized modular bathroom with shower and toilet. 
Read This: 10 Best Rechargeable Portable Power Supply for camping
The features of this RV trailer are Powered Roof Vent, Fiberglass Exterior Wall , Battery Connection Set-Up and Cut Off Switch, Interior Lights, Interior 110v AC Power Outlets, Converter (110VAC-12VDC, 60 Amps) , Porch Light, Tap/Shower H/C Water Tap, Hot Water Heater( 6 gal), 3-Way Refrigerator (1.9 CF), Smoke Detector, LP Gas Detector, Black Water Tank (6gal.), Gray Water Tank (14gal.), Fresh Water Tank (22gal), Marine Toilet, Modular Fiberglass Bathroom, Wardrobe, Overhead Cabinets, Counter with Stainless steel SONIC and lp-burners, Dinette/Bed with Adjustable Table, High Gloss Finish Vacuum-Formed Cabinets, Glass Slider Windows with Screen, Four Layer Laminated Floor, Gelcoat High-Gloss Fiberglass Exterior Skin, Front Pulling Handles, Laminated Structure Foam Body with Aluminum Frame, Entry Door with Screen, Aluminum Entry Step, Electric Brakes, Rubber Torsion Axle, 2" Ball Hitch Towing Bar with Safety Chains and Powder-Coated Steel Frame.
Some of the optional features which you need to pay extra are Flat Screen TV, Apple iPod Connection, DVD Video/Audio System, LP Furnace, 30 ft. Water Inlet Hose, Cool Cat 2-in-1 A/C, and Heat Pump unit and a Spare Tire. If you are interested in buying this RV then please do check their website and look for the nearby dealer.
6. Scamp
Scamp is a simple looking RV trailer with Bathroom and Shower. Scamp is very popular because it's affordable and at the same time worth it for each penny. Scamp RV comes in multiple variants such as 13 Foot Standard Trailers, 13 Foot Deluxe Trailers, 16 Foot Standard Trailers, 16 Foot Deluxe Trailers, 19 Foot Standard Trailers, and 19 Foot Deluxe Trailers. The 13 Foot Standard and Deluxe Trailers are more than enough for a small family. If you need a bigger one then make sure you buy the bigger RV trailer. Scamp is a really good efficient RV trailer in the market. The sofa in the RV converts into a bunk bed to save space, that's why I mentioned efficiently. And the dining area converts into a master size bedroom in which four people can sleep peacefully. 
The interior is really good looking for this budget. The cushions come with multiple color variants such as brown and blue and also the carpet inside the RV comes with brown carpet and blue. The cabinets in the interior are made up of Fiberglass and the doors are made up of the finest wood. 
Some of the features or specifications of Scamp RV trailers are, 
Fiberglass construction

Mounted rear stabilizer jacks

Crank open windows & screens

Fiberglass cabinets

Carpet or vinyl floor (Optional)

Extra lights and outlets

25ft 30amp electric supply cord

Hitch height approx. 16-18"

Hitch ball size 2"

Safety chains

Spare tire & cover

Hitch weight 100 pounds

Overall length 13'

Overall height 7' 6"

Overall width 6' 8"

Interior length 10'

Interior height 6' 3"

Interior width 6' 6"

Super insulation (R15)

30 amp power converter

12-volt lighting

Icebox standard

12-gallon fresh water tank

Sleeps one to four

Table converts to the bed

Sofa converts to bunk beds

Clothes closet by the door

Marine headliner wall fabric

Four-inch cushions

Wood panel interior cabinet doors

Two burner propane stove

Propane tank

Porchlight

Curtains

Sink
7. Airstream Sport
Airstream Sport is amazing and fantastic looking RV trailer with Bathroom and Shower. I wonder why I have placed this in 7th position, but honestly, this deserves to be at the top too. This RV too has a dinette which also converts into the bed to sleep as the most of the RVs. The features and amenities in this RV is endless such as It has a JVC stereo with AM/FM/CD/DVD with Bluetooth, LG LED HD TV with omnidirectional antenna, Comfortable Ultraleather® seating surfaces and Panoramic front windows with blackout shades. The kitchen is amazing with good built and finish. 
The exterior in Airstream Sport consists of 1 Deep Cycle Group 24 Battery with Multi-Stage Converter, 3M Film Front Stone Guard Protection, 4 Manual Stabilizer Jacks, Aluminum Entry Door Handle, Aluminum LP Cover, Black Tank Flush System, Black Tank Flush System, Cast Aluminum Door Hinges, Cast Aluminum Door Hinges, Cast Aluminum LED Taillights, City Water Inlet with Water Pressure Regulator, Custom Handcrafted 26" Wide Entry Door with Window, Dedicated Waste Hose Storage, Enclosed Aluminum Insulated Heated Underbelly, Exterior LP Quick Connect Service Port, Exterior Shower with Hot & Cold Water, Fluorocarbon Treated UV Protected Aluminum Exterior, Hand Crafted Welded Extruded Aluminum Window Frames, Goodyear® ST225/75R15 Tires (16': ST215/75R14), Balanced, Hand Painted Chassis, LED Entrance Light, LED Storage Compartment Light, License Plate Bracket with LED Light, Lockable Fresh Water Tank Inlet, LP (2 – 20 lb. Steel Tanks) with Auto 2-stage Regulator, Manual Hitch Jack, Manual ZipDee Patio Awning with Weather Max Fabric, Nev-R-Adjust® Brakes, Rear View Monitoring System, Semi-Monocoque Aluminum Superstructure, Solar Front Window Protection, Solar Pre-wire (3 Rooftop & 1 Front Access Points), Spare Tire – Full Size, Steel Entry Step, Stylized Aluminum Wheels, Temperature Reducing One Piece White Aluminum Roof, Tempered Tinted Windows with Double Cam Latching System (Front), Thermal Barrier Protection Between Interior and Exterior, Torsion Axle Suspension, Unique Front Door Key with Heavy Duty Deadbolt and 90w Solar Package with Interior Monitor and AGM Battery (Optional).
The interior in Airstream Sport consists of 
5/8" WBP Tongue-and-Groove Wood Floor

A/C with Heat Strip, Anti-wicking Outside Edge Floor Sealant

Coat & Key Hooks

Complete Aluminum Interior Walls and Ceiling

Direct Spark Ignition LP Water Heater (6 gal.)

EcoBattTM Insulation, Fantastic© Fan
Handcrafted Italian Lite-Ply® Laminated Interior Cabinetry

LED Interior Lighting

Overhead Tambour Door Roof Lockers

Panoramic Front Windows with Blackout Shades

Probeless Tank Monitoring System

Seamless Vinyl Flooring

2 Burner Cooktop (LP Gas)

Aluminum Mini Blinds

Dinette Converts to a Lounge and Sleeping Accommodations

Aluminum Mini Blinds

Flatware Organizer

JVC Stereo: FM/AM/CD/DVD with Bluetooth® (in/out)

Laminate Dinette Top

Laminate Galley Top

LG LED HD TV with Omni Directional Antenna (shared with Bedroom)

Moen® Faucet

Stainless Steel Sink

Stainless Steel Sink with Cutting Board Sink Cover

Ultraleather® Lounge and Dinette Seating

Blackout Curtain

Decorative Throw Pillows

LG LED HD TV (Shared with Galley)

Pillow Top Memory Foam Mattress

Quilted Bedspread with Reverse Sham

Sleeping Pillows

Under Bed Storage

Wardrobe with Hanging Bar

Lavy Sink

Moen® Bathroom Faucet

Porcelain Toilet

Removable Hand Held Shower Head with Shutoff

Towel Bar/Ring
Some of the additional amenities in Airstream Sport
3 Year 24/7 Coach-Net® Roadside Assistance

LP, Smoke & Carbon Monoxide Detectors

Fire Extinguisher

Airstream Logo Entrance Mat

3 Year Airstream Limited Warranty (Transferable)

TRA Certified Green: Emerald Status (Highest Rating)

Winterization Bypass Valve

Internally Routed A/C Condensation Drain Line to Wheel Well
8. Escape Mini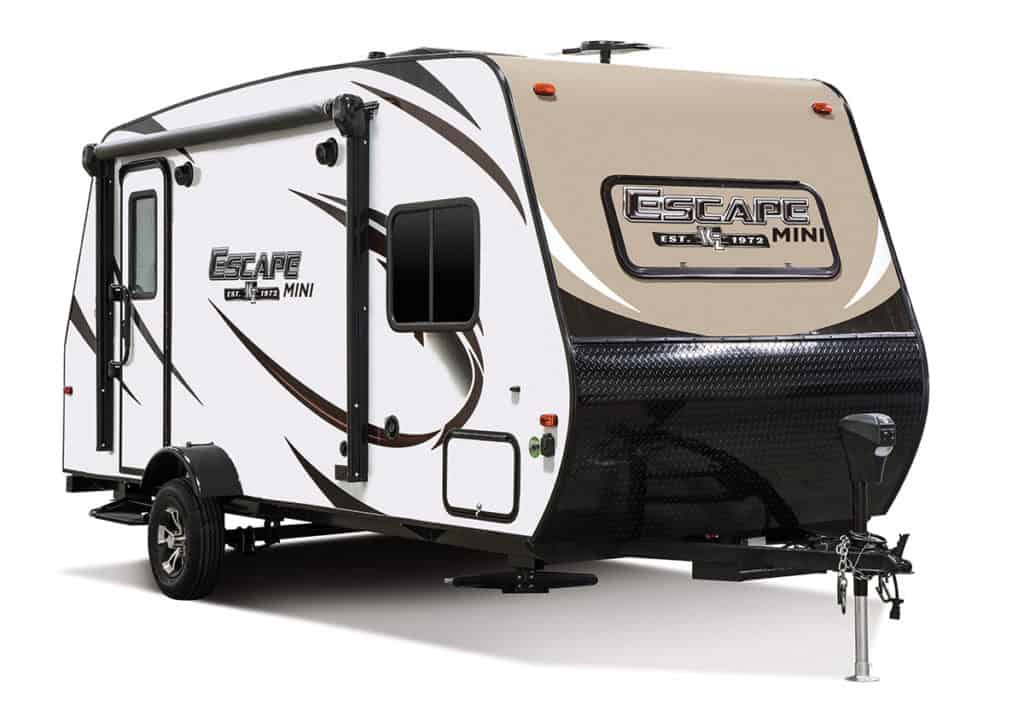 Escape Mini is modern RV Trailer or Pop up Camper with Bathroom. The built quality of this camper is really up to the point and really worth understanding it. The exterior of Escape mini is made up of fiberglass and the interior is made with the modern up class design.
Standard Features of Escape Mini
Shower & Toilet

LED Interior Lighting

Rail-Style Cabinet Doors with Modern Handles

Amish-Crafted Rustic Maple Cabinets

7 CU FT Double-Door Refrigerator (E171MB, E180RBT, E191SS, E201RB, E231BH)

4 CU FT LP/Electric Refrigerator (E160RBT, E180TH, E181RB, E191BH)

Microwave

2-Burner Cooktop

Linoleum Throughout

Monitor Panel

6 GAL LP DSI Water Heater

12V Converter with Charger

Digital TV Antenna

City Water Fill

Cable Hookup

Radial Tires

Self-Adjust Electric Brakes

Rear Bumper with Sewer Hose Storage

Diamond Plate Rock Guard

R-7 Insulation

Tinted Windows
Optional Features of Escape Mini
13,500 A/C Low Pro (required on E180RBT, E191SS, E201RB, E231BH)

U-Dinette IPO Standard Dinette (E181RB, E191BH)

7 CF Refrigerator (required on E180RBT, E191SS, E201RB, E231BH & must option roof A/C)

24″ TV w/Inside/Outside Bracket (E180TH, E181RB, E191BH, E191SS, E201BH)

Aluminum Wheels – 2 (N/A E180RBT, E201RB, E231BH)

Aluminum Wheels – 4 (E180RBT, E201RB, E231BH)

Murphy Bed w/Sofa (E201RB)

Wireless Backup Camera System – Observation

Front Window (N/A E160RBT, E180RBT, E180TH)

Bedspread (N/A E160RBT, E180RBT)

Retractable Screen Wall (toy hauler only)
Exterior and Interior Specifications of Escape Mini
Color Infused Titanium Exterior Fiberglass

5/8″ T&G Plywood Floor

26″ Entry w/Flip-Up Entry Step

8,000 A/C

Key Alike Program for Baggage & Entry Doors

Aqualon Edge Tent Material

Folding Grab Handle

Exterior Speakers

Spare Tire & Carrier

4 – Scissor Style Stabilizer Jacks

Solar Prep

Backup Camera Prep

Nitrogen Filled Tires

20,000 BTU Furnace

Seamless Countertops

Pleated Shades

Convection Microwave

Shower Surround

Plywood Bed Base

Digital Media Stereo w/Bluetooth & 12 Volt Dual USB Port

Power Awning w/LED Light Strip

Friction Hinge Entry Door

Double Entry Steps (select models)

Omnidirectional HDTV Antenna

Residential Grade Linoleum

Rail Style Cabinet Doors

Interior Control Switches Overhead End Cabinet
9. Happier Camper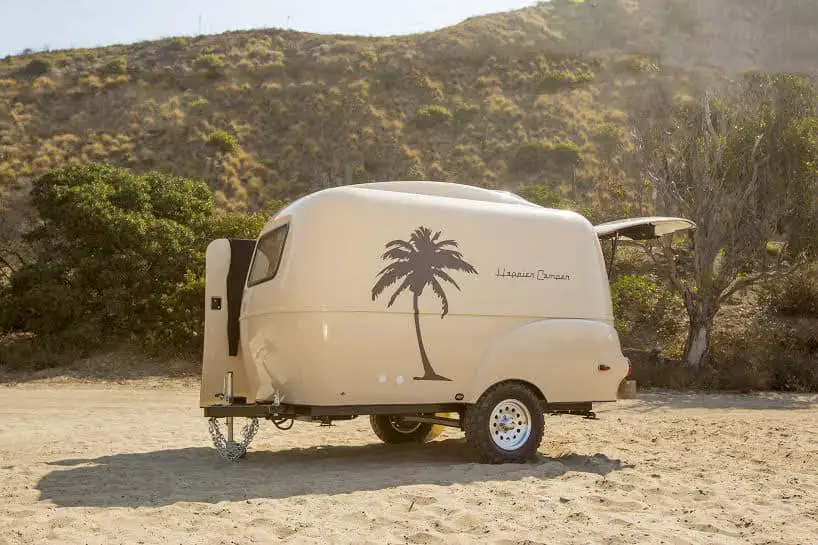 Happier Camper is one of my favorite RV Trailer with Bathroom and Showers. You must be wondering why it is 9th position then, its because this is not a ranking its just 10 best of the ones that I have used. This is one of the best, good looking and affordable RV trailer with Bathrooms that is currently available in the market right now.  Happier Camper Comes in Multiple color variants such as Mammoth White, Pacific Blue, Bishop Red, Topanga Turquoise, Sequoia Orange, Silver Lake, and Mojave Sage.
Exterior Features and Specifications of Happier Camper
Ultra-light 1100 Lbs. dry weight*

100% insulated double hull fiberglass shell

Custom engraved door hinges

Outdoor porch light

Precision hardware, locks, and components

Marine-quality parts and accessories

Vintage style moon caps

Sturdy reinforced tube frame

Built-in rear stabilizing jacks

Swivel-back tongue

2″ hitch receiver (side and rear door)

Torsion axle independent suspension

Standard electronic braking system

13″ aluminum wheels

Undercarriage spare tire

Swing-back jack wheel

7-pin wiring harness

6 recessed D-ring tie-down mounts

Utility lever
Interior Features and Specifications of Happier Camper
Stylized panoramic windows

Honeycomb fiberglass base

Adaptiv™ dynamic interior

Premium adjustable blinds

Nested side-door storage

Embossed doorstep

Stainless steel floor drain

Perimeter wall storage space

Interior shell upper storage shelf

Nested upper shelf storage

5 recessed table leg mounts

6 heavy-duty recessed D-ring tie-downs

Independent dimmable LED lighting

Large 7″ LED taillights

Vintage-inspired teardrop rear side markers

Extra-bright LED front markers

14″ dual airflow ceiling fan

Deep cycle AGM battery w/power converter

AC power dual-wall plugs w/dual USB plug

4 built-in DC power "cigarette" ports

Marine-gray exterior AC power inlet.
10. Cricket Camper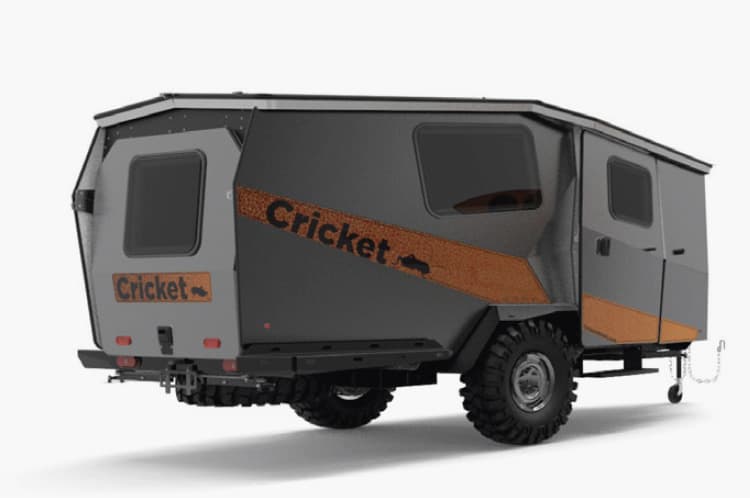 Cricket Camper is a really good and compact RV trailer. By the name cricket, it's not the sport cricket its the insect. If you look at the other model of RV trailer by these manufactures are Mantis Camper, Woolly Bear Camper, and Tigermoth Camper, this shows that the manufacture like insects or animals in general. 
Exterior Features and Specifications of Cricket Camper
Kynar-Painted & UV Treated Aluminum Panels

Laser Cut Aluminum Super Structure

Tempered Tinted Windows w/ Screens & Shades

Powder-Coated Galvanized Steel Frame

Torsion Axle Suspension

Two 20lbs Liquid Propane Tanks w/ Cover

15″ Aluminum Wheel w/ All-Terrain Tires

15 Gallon Fresh and Gray Water Tanks

Exterior Shower w/ Hot and Cold Water

Solar Pre-Wired System

LED Porch Light

Front Stabilizer Jacks (Optional)

Powder-Coated Gravel Guards (Optional)

15″ Aluminum Spare Wheel and All-Terrain Tires (Optional)

Roof Rack System w/ Crossbars (Optional)

Front Stabilizer Jacks (Optional)

Powder-Coated Gravel Guards (Optional)

15″ Aluminum Spare Wheel and All-Terrain Tires (Optional)

Roof Rack System w/ Crossbars (Optional)
Interior Features and Specifications of Cricket Camper
Foam Core Aluminum Interior Walls and Ceiling

Coin-Designed Vinyl w/ 1″ Tongue/Groove Wood Floor

Marine-Grade Birch Wood Kitchen w/ Storage

Truma® Hot Air/Water System and Dometic® Stove/Sink

LED Interior Lighting w/ Red Reading Light

Multi-Speed Vent Fan

USB Charging Ports

Ripstop Nylon Custom Patio Awning (Optional)

Fully Enclosed Shower Tent (Optional)

Mesh Screen Door for Side (Optional)

Dometic® Portable Toilet (Optional)

5000 BTU Driver-Side Window AC (Optional)

Dometic® 12V Fridge and Freezer (Optional)

Hanging Dual Kids Berth (Optional)
Wrapping Up!
Finally, we have concluded this gigantic article. We will be constantly be updating this article, please do check it back again. If you like and feel that this information on 10 Best Small Camping RV/PopUp Trailers with Bathrooms was helpful then please do share it with your friends and also comment down if you have any doubts or suggestions that you want us or the readers to know about. Thank You.