As an Amazon Associate, I earn from qualifying purchases at no extra cost to you. Thank You for your support.
How to Buy Used Dirt Bike for Good Price – Do you want to buy a used dirt bike for cheap or for a good price, then you are in the right place. In this article, I will teach you How to Buy Used Dirt Bike or show you where to find Dirt Bikes for Sale. This article is a one-stop information which is required for you to buy a used dirt bike. I will be telling all the information that I gathered when I bought my first used dirt bike and also all the experiences. I will also be telling you What to do? and What not to do? when buying used dirt bikes. After my previous article on 50cc Dirt Bike For Kids went viral, people started to email me asking to write an article on How to Buy Used Dirt Bike Cheap or for a reasonable price and not get cheated.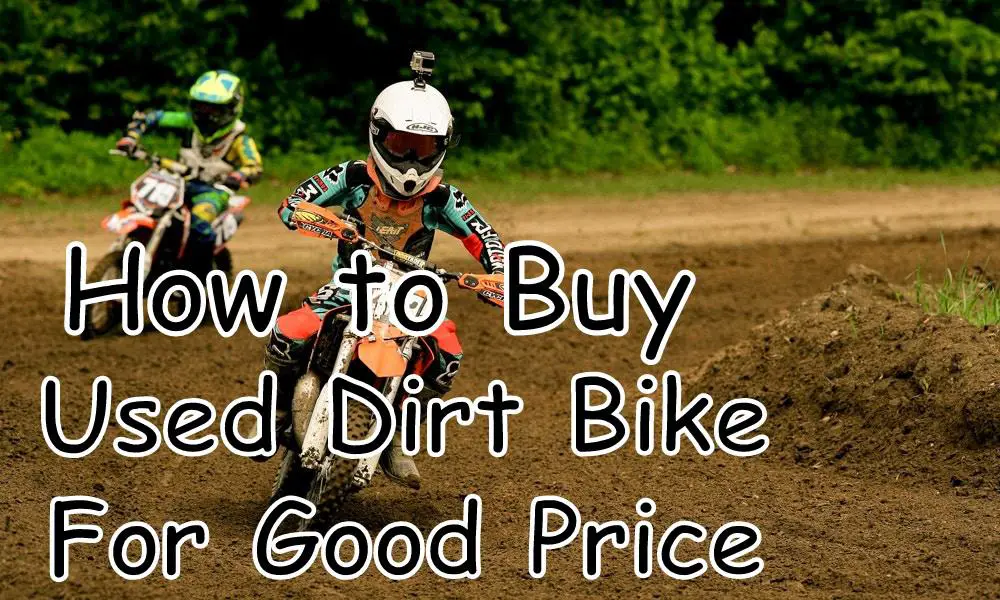 Where to Buy Used Dirt Bike for Sale (Reasonable Price)
These are the four trusted place to buy used dirt bikes online
Craigslist

eBay Motors

CycleTrader.com

Facebook Marketplace
How to Buy Used Dirt Bike for Good Price – Dirt Bikes for Sale
Craigslist – to buy used dirt bikes online
I am sure that you would have already heard or already used Craigslist to buy used stuff online. Craigslist is a really popular classified website in the United States of America, but most of the people think that craigslist are mostly scam or get robbed, maybe that happens but never happened to me. Craigslist is available with the website version and also mobile applications. The craigslist mobile application is called CPlus for Craigslist (iOS) and CPlus for Craigslist (Android).
Steps to Find Used Dirt Bike on Craigslist
Goto

Craigslist.com

Locate your current location properly using GPS (Global Position System) or enter manually. 

Search for Dirt Bikes in the search bar or search via Categories for more accurate results. 

Once, you find the dirt bike that you wanted to make sure you read the description properly and the price is worth for that bike.

Make sure the bike condition is good and the price is reasonable. 

Contact the person who posted the advertisement on Craigslist

Meet the person in a public place or ask them to get the vehicle to your location. (This is because you don't get scammed or mugged)

Test drive the bike and make sure that it is working and in perfect condition. 
Make sure you read Craigslist's Safety tips and Avoid Scams Guide to be on the safer side.
I would suggest you have patience when you are looking for used dirt bikes on craigslist because a lot of people keep posting on craigslist and make sure you filter and buy the best one. 
eBay Motors – to buy used dirt bikes online
eBay Motors is more of a category in the eBay.com, We all know eBay is the global leader in the eCommerce industry and very trustable too. Unlike Craigslist, eBay is not a classified but an eCommerce website where people list their product, in this case, its a Dirt Bike. When people buy the dirt bike, eBay will ship it to the customer or the customer has an option to pick it up too. 
Steps to Find Used Dirt Bike on eBay Motors
Goto

eBayMotors

Scroll down, and you will find an option called Find a Vehicle.

In Find a Vehicle select Motorcycles

There are four options such as All Makes (Dirt Bike Company Name), All Models, Zip Code and Condition (New or Used).

In All Makes, select the dirt bike company that you are looking for. If you are okay with any company then leave it as All Makes.

In All Models, select the model that you want if you had selected the company, if not leave it as All Models.

In Zip Code, make sure you enter your area's zip code for the appropriate result. Zip Code is mandatory you can't proceed without entering the zip code. 

In condition select New or Used or New and Used as per your requirements. 
CycleTrader.com – to buy used dirt bikes online
CycleTrader is more of an exact niche website on Motor Bikes. CycleTrader.com is a Motor Bike Buy and Sell Website. You can list your motorbikes such as Dirt Bike or Buy any used motorbikes in the website. You can also find new bikes also on CycleTrader.com. It is very easy and simple to find used dirt bike on CycleTrader.com.
Steps to Find Used Dirt Bike on CycleTrader.com
Goto

CycleTrader.com

In the homepage, you will find a search bar in which you need to enter the bike name or model. In this case, we need to find a dirt bike, so enter "Dirt Bike".

After entering the search term, Enter your Zip Code and click Find.

After clicking on Find, you will get all the required results.

Select the dirk bike which suits your requirement and contact them.
Facebook Marketplace – to buy used dirt bikes online
Facebook Marketplace is the new feature that is been added by Facebook in the social networking platform. Facebook Marketplace feature is integrated into Facebook Groups, where people can list the products that they want to sell in the respective group and people can inbox the seller or comment on it.  
Some of the Facebook Marketplace groups on Facebook for buying used dirt bikes
and many more. Use the Facebook search bar to find such groups. 
Steps to Find Used Dirt Bike on Facebook Marketplace
Goto Facebook.com

In the Search bar, type the search terms that you want to search and then join them. Some of the groups will be private where you need to request to join and the admin will accept your invitation.

After joining the groups, browse around and then if you find the dirt bike that you need then comment or inbox the seller.

If you don't find the dirt bike by browsing then use the search feature in the group and enter the search term to find.
Checklist Before buying used Dirt Bikes
These are the checklist then you need to check before buying Used Dirt Bike or any type of bikes online.
Check the chassis number, make sure that the chassis number is not removed or scratch off. Because a chassis number is a unique number from the Manufacture. If the chassis number scratched off then it means that bike is either stolen or the seller has bought stolen dirt bike from someone. 

Make sure the body works, frame, plastic, parts or gear are in good condition.

Make sure that the bike handle is not bent.

Check and Make sure that the tires are not very old and have a good amount of edges on them. If the tires are smooth in the center then make sure you ask the seller for new replacement tires.

Check the battery balance, if less then ask the seller or a new one. 

Make sure that the stands in the dirt bikes are a good and working condition. Try both the single stand and the double stand. 

Check both the brakes of the bike, if it is Disc break then make sure it perfectly in condition.

Make sure there are no cracks in the engine. 
There are many more checklists which you need to work on and understand. 
Conclusion
Finally, this is the ending of this article. If you feel that the information provided was helpful and beneficial then please do share it with your friends and family via Social Networking sites like Facebook or Twitter. If you find any errors or have doubts then please comment below. If you find any good used dirt bike for the reasonable price and wanted to share the news with me then please comment below. I will be happy to read and congrats you. Thank You and have a fantastic day.