As an Amazon Associate, I earn from qualifying purchases at no extra cost to you. Thank You for your support.
The right mouse can make a big difference in gaming. In addition to an excellent gaming keyboard, a mouse with easy-to-use programmable buttons can give gamers that extra edge. With a flashy look and a comfortable feel, the best mouse can enhance the gaming experience immeasurably. The CPI (counts per inch) indicates the sensitivity of the mouse, with the higher number requiring less movement from the user. Weight can also be a consideration, as well as the design, the interface, the number of buttons, and the price.
If you already checked many trusted review sites and yet haven't found the right gaming mouse, you should definitely keep reading.
Best Gaming Mouse for Pro Gaming
1. Razor Viper Ultimate Wireless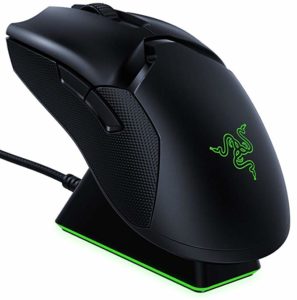 With a CPI of 20,000, the Razor Viper is extremely accurate. It has a very innovative design and a fantastic feel. It is also ambidextrous and with a battery life of an impressive 70 hours. The mouse weighs 158 grams, and there are eight buttons, though some of these are not too sturdy. However, it is not very affordable at a price of around $150.  
2. Logitech G502 Lightspeed Wireless
Another wireless mouse, the G502 Lightspeed, is both durable and accurate. It comes with a 16,000 HERO sensor CPI and weighs only 114g. It can be used in conjunction with a PowerPlay mat that powers the mouse and connects it to a computer. Modular weights can be added to improve the feel, and there is an adjustable scroll wheel that can be set to steps or free spin. It is a leading wireless mouse and is priced at $150.
3. Corsair Ironclaw RGB
Aimed at those with large hands, the Ironclaw combines plastic and rubber. This is an excellent design that creates a superb feel and functional shape. It has seven buttons, a weight of 105g, and a CPI of 18,000. This mouse can be completely customized using iCue software from Corsair. It is also reasonably priced at just $59. 
4. Steelseries Sensei 310
At just 92 grams, the Steelseries Sensei is very light. It is ambidextrous and uses a newly developed plastic that is easier to take hold of. It has an excellent sensor at 12,000 CPI that prevents tracking issues. It has a thumb button on each side, which may cause errors. It is small, light, and has a comfortable shape. It is not expensive at around $31. 
5. HyperX Pulsefire Surge
For those that prefer a simple design without the flashy frills, the HyperX Pulsefire Surge may be a good choice. It features highly-rated Omron switches, fantastic RGB lighting, and a 16,000 DPI sensor. There are no customizable weights, but this mouse will not break the bank at a price of just $46.
6. Gigabyte Aorus M5
This is a highly customizable mouse with a comfortable look and feels to it. It has an excellent level of RGB lighting as well as an adjustable weight distribution system. It also features a sensor that allows DPI adjustments while in use, and fully tested Omron switches. The build doesn't feel the most sturdy, but at a price of only $70, this is still a great deal.  
7. Roccat Kain 202 AIMO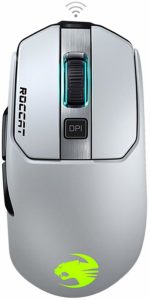 A simple and straightforward mouse without any unnecessary distractions, the Kain 202 AIMO from Roccat is easy to use and get started with. It has good sensitivity at 16,000 DPI and long battery life. The construction is highly rated, and the large scroll wheel is reassuringly firm. Though it is quite large, its weight is just 89g, and it also has an anti-wear coating to keep it from aging too quickly. This mouse is priced at $65.
8. Logitech G203 Prodigy 
This is an affordable mouse that is a cut above the other low-cost mice that can be found online. Logitech brings an excellent build quality, comfortable and effective shape, and great gaming driver software. The sensor is not the best in Logitech's range at 8,000 DPI, though this is often all that is needed. There are only six buttons, and it is lightweight, at only 85g. With a price of just $35, the G203 Prodigy is a fantastic deal. 
In order to make the most of gaming, the best available mouse is an essential tool. Much of the decision comes down to personal preference, but gamers should be playing on the best mouse available to them, rather than getting comfortable with the one they already have. As technology advances, tools like mice, keyboards, and screens are critical in shaping the gaming experience. With a state-of-the-art mouse that feels just right, gamers can appreciate the difference and play to the best of their abilities.